Remedy Massage was established in 2010 offering quality professional massage and remedial soft tissue bodywork to the general population in Cork.
My dependable and high standard of support is available to those suffering from acute or chronic pain or discomfort and to anyone seeking a natural and hands-on approach to dealing with their symptoms or simply in need of occasional downtime.
If you are unable to come to the clinic, an outcall mobile service is available to visit your home, place of work or residence such as hotel room.
I also offer onsite massage for the workplace, corporate functions, leisure or sporting events, providing either fully clothed chair massage, or draped table massage. I am prepared for fast turnaround sportifs. Multiple therapists can also be arranged.
Covid Notice: Mobile service regretfully suspended during the Covid pandemic, in line with guidelines.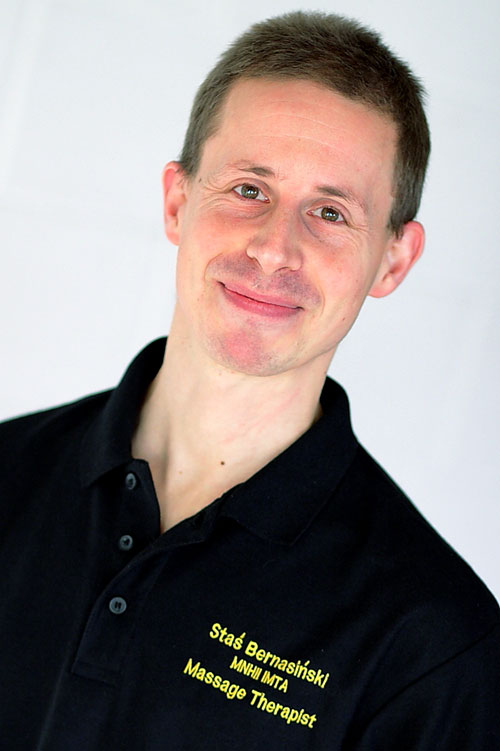 Hi! I am Staś (pronounced Stash, rhymes with 'dash') and I came to Cork in 2002. I'm British-born of Polish extraction and grew up in London immersed in Polish tradition and culture. I speak both Polish and English natively, though admittedly my Polish could do with a bit more practice! I am a proud Irish citizen.
Staś Bernasiński has a natural affinity with bodywork. He holds distinctions in Therapeutic and Advanced Massage from the Natural Healing Centre in Cork, he is a certified sports injury therapist and a qualified Neuromuscular Therapist (NMT). Continuing professional development keeps his skill and knowledge of bodywork current and has taken him to many fascinating seminars, workshops and courses including Advanced Orthopaedic Massage, NeuroKinetic Therapy®, Instrument Assisted Soft Tissue Mobilisation and many more. He has a strong interest in chronic pain, especially from trauma (emotional or physical), and the effects of scarring on the mobile body.
Affiliations:
ANMT – Association of Neuromuscular and Massage Therapists
IMTA – Irish Massage Therapists Association
He is a full member of the Association of Neuromuscular and Massage Therapists (ANMT). Staś is also a full member of the Irish Massage Therapists Association (IMTA). He served as Vice President of the IMTA 2019-2021 and previously served on their Education Committee and Executive Support Group. Comprehensive professional insurance is provided by Balens at their highest level for clients' assurance.